About IBS Clear
How IBS Clear Works
IBS Info
FAQ
Order Now
Why Is IBS Clear™ The #1 Choice For IBS Relief?
Read this important information below to discover how IBS Clear™ can eliminate your IBS suffering, once and for all.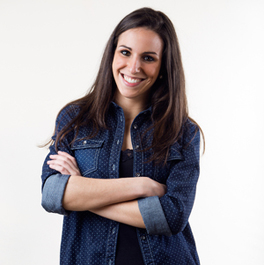 IBS Clear™ is known as the ultimate, 100% natural relief for Irritable Bowel Syndrome today. Thousands of our customers are thrilled at how they haven't had even a hint of IBS pain or suffering since using IBS Clear™ In fact, they're so happy that they told us they'll never buy any of the 'cheap chemical-based alternatives' ever again. Here's why:
You see, most IBS remedies contain only a few key ingredients important for IBS relief and prevention. Which is why the 'chemical based alternatives' everyone buys in pharmacies might relieve your IBS symptoms for a short time - but those uncomfortable symptoms never fully go away, they always come back. Sometimes they don't even work at all. Isn't it time you had total relief that's 100% natural?
Most IBS alternatives have less than top-notch purity, and are packaged in an improper dose. Only IBS Clear™ has it all. IBS Clear™ was developed to adhere to the strictest quality standards and contain more effective and bioavailable ingredients than any other product, hands down. Which is why people are calling it the 'Ultimate IBS Relief'.
IBS Clear™ proprietary formula utilizes 11 extensively researched ingredients and 10 natural digestive enzymes that are at the top of their respective health goals in terms of quality standards, scientific research, and purity. We recommend comparing the ingredients in IBS Clear™ with the competition. We are confident that you will not find a better treatment for IBS on the market.
IBS Clear™ Follows The Highest Quality Standards

IBS Clear™contains 11 tested ingredients and 10 natural digestive enzymes that meet the strength and purity guidelines of the USP/NF (United States Pharmacopeia National Formulary). It is manufactured in the United States in an FDA registered laboratory that exceeds industry standards. Our manufacturing facility is GMP-certified and abides by the strictest FDA recommendations.
IBS Clear™ Is The Best IBS Supplement On The Market
Improves Overall Digestive Health
Keeps the digestive system moving as it should
Quick And Effective Relief
Effectively combats constipation and diarrhea
Relieves Abdominal Pain, Cramping And Bloating
Designed to sooth pain and eliminate spasms caused by gas
Stabilizes The Digestive System
Contains 10 natural enzymes to aid digestion
100% Risk-Free Results
Feel confident and secure with our 100% money back guarantee
IBS Clear™ Gets To The Root Of The Problem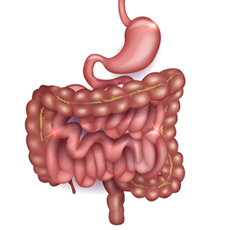 Did you know that an estimated 3-20% of Americans suffer from Irritable Bowel Syndrome (IBS), with women disproportionately affected? Two out of three people who suffer from IBS are female. IBS occurs more frequently in individuals under the age of 50, but may affect older adults and children as well. Unfortunately, the exact cause of IBS is not known, but individuals who suffer from IBS actively try to tackle this condition at its root cause.
For these reasons, it's crucial to have an IBS remedy that works. This will give your body the ultimate nourishment, support and balance it needs to effectively fight IBS, so you can get rid of painful symptoms, once and for all.
IBS Clear™ stands above other solutions by attacking the problem at its root. IBS Clear™ is a painless, risk-free alternative to prescription drugs and the many negative effects they're known for. It's a unique, maximum strength, proprietary blend of ingredients that is specially formulated to relieve and prevent IBS symptoms.
IBS Clear™ Is Recommended By Doctors And Medical Scientists:
What Do IBS Clear™ Customers Have to Say?
All testimonials reflect the range of typical results that our customers experience.
Comment by: Lisa K.
I have suffered from years of IBS and am so grateful to have finally found something that is giving me consistent relief. I have tried so many other products on the market and always carefully watch what I eat to be sure that I don't eat trigger foods. But all of this was without success. I took my first dose of IBS Clear two weeks ago and I am not as bloated and I have no more straining and cramping. It's completely cleared up my symptoms and I can highly recommend this product.
Comment by: Tracy G.
After using IBS Clear for a month, I can honestly say I am back to normal. My life is as normal as it can be! I haven't had any symptoms of IBS and I never thought that I'd be able to say this. I've had IBS for so long and being able to not worry about an attack is a life changer for me.
Comment by: Ian S.
I have struggled with diarrhea for years, and the anxiety of never knowing when and where I would need a bathroom was an impossible situation. It affected every aspect of my life, unfortunately, and I've been somewhat withdrawn from everything. A friend of mine told me about IBS Clear and told me that I needed to trust her and just try it. She also has irritable bowel syndrome and is one of the only people in the world who really gets me. She ended up sending me a bottle in the mail and I cannot thank her enough. I finally can go out without always needing to plan for a bathroom and I am even planning my first hike next week. Definitely don't be skeptical about trying IBS Clear. The formula really works!
Comment by: Josh B.
IBS Clear has given me the relief I did not think was possible. No pain since I started and it has helped me so much to manage my constipation. I'm as regular as I've ever been and with no more bloating and straining, I am beginning to meet up with friends again. And for the record, I've been on IBS Clear for 4 months now. It is the best IBS product ever. Spread the word to your IBS friends and family so that they too will feel better. There is no glamour to IBS and everyone should have the benefit of this supplement.
Comment by: Jill C.
There has been a lot of products I've tried and honestly, this is the only one that has given me complete relief from all of my symptoms. Nothing has ever worked this well before - nothing. So I'm feeling hopeful again after being sure that my life was going to be as hard as it's been forever. I'm so thankful to the folks who created IBS Clear.
Comment by: Seth T.
This supplement is nothing short of a miracle. I was diagnosed with IBS twelve years ago and I promise you that IBS Clear is the best product out there. Don't be discouraged. There is a bright future out there for you too!
Comment by: Jackie C.
I have had stomach problems for pretty much my entire life but was always told it was dairy and gluten issues. But in the end, while I don't know what it really is or isn't, I know that IBS Clear works. I am no longer having diarrhea and am feeling great. I wake up in the morning feeling great and am eating normally too. It's so shocking to finally feel good after being more or less not well for my entire life. My mom who is older now is so glad to see me finally feeling okay. If you have IBS, definitely try this product. It's worth every single penny - I promise you!
Comment by: Deanna S.
I've been taking IBS Clear for a few weeks now and after taking prescriptions and other products that this friend and that friend recommended, I finally got the advice of a friend with IBS that this was the new miracle on the market. I'm feeling good in absolutely every way and I will admit that I'm still a bit shocked every day to not be running to the bathroom all the time which has been the very unfortunate circumstances of my daily life until now.
Comment by: Lonnie M.
I am a fan of IBS Clear and never thought that I'd be able to say this about any product that promised me to feel better. And do you know who told me about IBS Clear? My regular doctor! Yes, he is a fan because all of his patients are raving about it like I am. Don't wait and throw more money away on other products that promise this or that. IBS Clear is all you'll ever need! Totally convinced if you couldn't already tell ;-)!!!!
Why Is IBS Clear™ So Effective?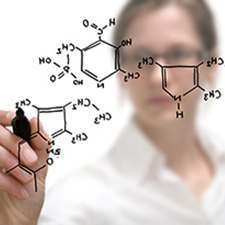 IBS Clear™ is a breakthrough dietary supplement that effectively combines the most powerful and extensively researched ingredients, giving you an all-in-one solution. Every single ingredient in IBS Clear™ was hand-picked by a team of medical doctors and scientific researchers, based on clinical data and designed to help relieve IBS symptoms and get results more effectively than any other IBS supplement available.
IBS Clear™ contains clinical tested ingredients that meet the strength and purity standards of the USP/NF (United States Pharmacopeia–National Formulary). Each ingredient was carefully researched and included based on clinical data. No other non-prescription solution comes close to in terms of quality and purity of ingredients.
IBS Clear's™, recommended use for adults is to take 2 (two) capsules daily. Take 1 (one) capsule in the morning and 1 (one) capsule in the afternoon.
IBS Clear's™ Proprietary Blend Of Ingredients:
Click here to see IBS Clear™ label.

Vitamin D is shown to improve overall intestinal health and functioning. Numerous studies revealed that the overwhelming number of IBS patients are found to be deficient in Vitamin D. Research on the connection of Vitamin D with IBS has documented an improvement in IBS symptoms when supplementing with it.
*References:
Vitamin D Deficiency in Patients with Irritable Bowel Syndrome: Does It Exist? Yasir Khayyat, Suzan Attar. 2015 March;30(2):115-118.

Psyllium Husk is a bulking fiber that works to cleanse the intestines, transporting waste and toxins out of the body. It is a source of soluble dietary fiber and is commonly used to relieve constipation, irritable bowel syndrome, and diarrhea. Psyllium Husk is recognized as beneficial by the FDA and is found in most quality constipation supplements. Research also shows that it may benefit reducing cholesterol.
*References:
Anderson, J. W.; Zettwoch, N; Feldman, T; Tietyen-Clark, J; Oeltgen, P; Bishop, C. W. (1988). "Cholesterol-lowering effects of psyllium hydrophilic mucilloid for hypercholesterolemic men". Archives of internal medicine 148 (2): 292–6.
Blond psyllium: MedlinePlus Supplements". Nlm.nih.gov.
Schultz, William B (1998-02-18). "Federal Register 63 FR 8103, February 18, 1998 – Food Labeling: Health Claims; Soluble Fiber From Certain Foods and Coronary Heart Disease, Final Rule". Federal Register. U.S. Food and Drug Administration. Archived from the original on 2011-08-18

Perilla is a plant and member of the mint family. Traditionally cultivated in Asia, it is grown all over the world today. Perilla extract is known to have many health benefits including improving gastrointestinal problems such as bloating and boosting overall digestive health.
*References:
BMC Complement Altern Med. 2014 May;27(14):173-82. Perilla Extract Improves Gastrointestinal Discomfort in a Randomized Placebo Controlled Double Blind Human Pilot Study. Sybille Buchwald-Werner, Hajime Fujii, Claudia Reule, Christane Schoen.

Peppermint is primarily known for its cooling effects upon the skin. Studies have shown it to be effective in treating many health conditions. It has antimicrobial properties, it is helpful in soothing pain caused by spasms and is effective in fighting against E. coli and other pathogenic bacteria. It is also beneficial for easing and relieving symptoms of digestive problems.
*References:
Khanna R, MacDonald JK, Levesque BG (July 2014). "Peppermint oil for the treatment of irritable bowel syndrome: a systematic review and meta-analysis". Journal of Clinical Gastroenterology 48 (6): 505–12.
Thosar, Nilima (2013). "Antimicrobial efficacy of five essential oils against oral pathogens: An in vitro study". Eur J Dent. Sep; 7(Suppl 1): S71–S77.

Aloe Vera contains aloin, a gentle natural laxative that cleanses the colon and detoxifies the blood. It helps relieve constipation and supports a healthy digestive system, effectively helping the body to break down compounds and rid your body of bad substances and toxins that it doesn't want. After detoxifying your bowels, Aloe Vera leaves you feeling more energetic and less bloated.
*References:
Eshun K, He Q (2004). "Aloe vera: a valuable ingredient for the food, pharmaceutical and cosmetic industries--a review". Crit Rev Food Sci Nutr 44 (2): 91–6.
Barcroft, A. and Myskja, A. (2003) Aloe Vera: Nature's Silent Healer. BAAM, USA.
Wang H, Li F, Wang T, Li J, Li J, Yang X, Li J (2004). "[Determination of aloin content in callus of Aloe vera var. chinensis]". Zhong Yao Cai (in Chinese) 27 (9): 627–8.

Ginger is an ancient root recognized for a range of benefits to treat various ailments. Fundamentally, it provides excellent support to increase the circulation of blood, as such cleansing the body of excess waste and toxins, so essential when treating irritable bowel syndrome. It provides anti-inflammatory and antioxidant effects to reduce swelling, bloating and pain. Ginger also aids in delivering optimal nutrient to all parts of the body.
*References:
Complement Ther Med. 2014 Feb;22(1):17-20. Is Ginger Effective for the Treatment of Irritable Bowel Syndrome? A Double Blind Randomized Controlled Pilot Trial. Miranda A.L, Van Tilburg, Olafur S. Palsson, Yehuda Ringel, William E Whitehead.

Fennel is widely used to stimulate intestinal motion to help restore bowel regularity. The fiber found in powdered fennel seeds also has a significant laxative effect aiding in digestive problems.


*References:
Balch, P.A. (2002). Prescription for Herbal Healing. (pp.243-44) Penguin Putnam Inc.
Badgujar, S. B., Patel, V. V., & Bandivdekar, A. H. (2014). Foeniculum vulgare Mill: A Review of Its Botany, Phytochemistry, Pharmacology, Contemporary Application, and Toxicology. BioMed Research International, 2014.

Turmeric is a perennial plant. It is known to be widely used medicinally and many argue that it is the most powerful herb today. It is known to help reduce abdominal pain and improve IBS symptoms including frequency of bowel movements. Overall, turmeric is considered to be useful for all gastrointestinal disorders.
*References:
J Altern Complement Med. 2004; Dec 10 (6):19. Chili Peppers, Curcumins, and Prebiotics in Gastrointestinal Health and Disease. Patcharatrakul T, Gonlachanvit S.
Burdulis D, Ivanauskas L, Dirse V, Kazlauskas S, Razukas A (2007). "Study of diversity of anthocyanin composition in bilberry (Vaccinium myrtillus L.) fruits" (PDF). Medicina (Kaunas) 43 (12): 971–7.
J Gastrointestin Liver Dis. 2016; June 25 (2): 1015-8. Turmeric Extract May Improve Irritable Bowel Syndrome Symptomology in Otherwise Healthy Adults. A Pilot Study. Bundy R, Walker AF, Middleton RW, Booth J.

Long Pepper also known as Indian Long Pepper, is increasingly being understood to aid in the management of gastrointestinal disorders. It positively affects abdominal pain and mitigates symptoms.


*References:
Middle East J Dig Dis. 2013. Oct; 5(4):217-22. Cumin Extract For Symptom Control in Patients With Irritable Bowel Syndrome: A Case Series. Aqah S, Taleb AM, Moeini R, Gorji N, Nikbakht H.

Cumin is a type of spice that has been used for many years medicinally to aid in digestion and now is commonly used for gastrointestinal disorders. Cumin has been shown to help with abdominal pain and positively alters the change in consistency of stool for both those suffering from constipation and diarrhea, helping patients who suffer from IBS.
*References:
Middle East J Dig Dis. 2013. Oct; 5(4):217-22. Cumin Extract For Symptom Control in Patients With Irritable Bowel Syndrome: A Case Series. Aqah S, Taleb AM, Moeini R, Gorji N, Nikbakht H.

Black Pepper (Piperine) is an essential element for increased absorption. Piperine, the main alkaloid from black pepper has been shown to substantially increase the bioavailability of the nutrients in foods and supplements. Piperine can turn a marginally effective therapeutic substance into a highly effective one by increasing its bioavailability.
*References:
http://www.bioperine.com/peer-reviewed-articles.html
Shoba G, Joy D, Joseph T, Majeed M, Rajendran R, Srinivas PS. Influence of piperine on the pharmacokinetics of curcumin in animals and human volunteers. Planta Med. 1998 May;64(4):353-6.
http://bioperine.com/Targeting%20Optimal%20Nutrient%20Absorption%20with%20Phytonutrients.pdf

Natural Digestive Enzymes including Lipase, Papain (Papaya), Amylase, Glucoamylase, Protease, Invertase, Maltase, Bromelain, Lactase, and Cellulase which are enzymes responsible for stimulating chemical reactions and assisting in breaking down proteins, carbs, and fats which is essential for full digestion and stress-free elimination. By breaking down foods, your body is able to use the nutrition for energy to assist with digestion. As individuals age, the digestive tract enzyme production begins to decrease making these enzymes crucial for those suffering from IBS.
*References:
National Institutes of Health. July 2015. "Clinical Guidelines, Scientific Literature, Info for the Patients: Complementary Health Approaches for Irritable Bowel Syndrome". https://nccih.nih.gov/health/providers/digest/IBS-science
Muss C, Mosqoeller W, Endler T. "Papaya Preparation (Caricol) in Digestive Disorders" Neuro Endocrinol Lett 2013 34(1):38-46.
Get The Facts About IBS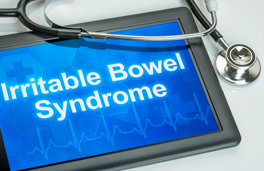 Irritable Bowel Syndrome is a gastrointestinal disorder categorized by abdominal pain and bowel irregularity and it affects around 10-15% of Americans - with more women affected than men. It is the most commonly diagnosed gastrointestinal condition. Though treatable and manageable, the symptoms which include abdominal pain, diarrhea, constipation, gas, cramping and bloating can become quite burdensome.
IBS symptoms can occur at any time of the day, and the impact of IBS can vary depending on the severity of the symptoms. Although not considered to be a threat to your overall health, the burden of the syndrome can be quite taxing on day-to-day living. In many cases, the symptoms significantly impact a person's social and professional life, due to the unpredictability of IBS and the sensitive nature of the syndrome. Developing hands-on strategies and a long-term treatment plan can help significantly in managing the syndrome.
IBS Types And Classifications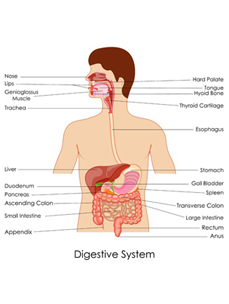 There are 3 general classifications of irritable bowel syndrome including constipation-dominant IBS (IBS-C) which accompanies infrequent and pellet-like bowel movements. With discomfort and pain in the abdomen, symptoms include straining and uncomfortable pain. Many women experience more prominent symptoms while menstruating.
Diarrhea-dominant IBS (IBS-D) is characterized by an urgency in defecating, loose and frequent bowel movements accompanied by abdominal pain. It is not uncommon for individuals to lose control of their bowels and soil their clothing, which makes living with IBS-D extraordinarily challenging and difficult.

IBS-A or IBS-M is characterized by an alternating/mixture of constipation and diarrhea symptoms - an inability to empty your bowels followed by an urgency to have a bowel movement - or in the reverse. Symptoms may be experienced on the same day, week or month with no way to predict the rhythm of which symptoms you will be experiencing at any given time.
How Is IBS Diagnosed?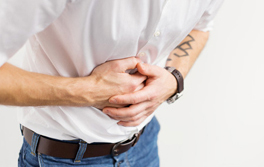 There are no specific tests to diagnose IBS. Many call IBS the diagnosis of exclusion. In making a diagnosis, your physician needs to be sure to rule out other diseases such as colon cancer, Crohn's Disease, and Celiac Disease and will want to identify a pattern of recurring IBS symptoms. Your doctor will likely request a stool sample to look for blood and parasites, and may also order a blood workup and colonoscopy. If a diagnosis is unclear, you may be referred to a gastroenterologist for further assessment and treatment especially if you are experiencing IBS symptoms over an extended period of time, or a treatment plan is not helping to control your symptoms.
Keeping a detailed diary of medications, foods and beverages, and bowel movements will help considerably in understanding the patterns of IBS. It is instrumental for your physician to understand the interplay of all the symptoms in making the diagnosis to build a treatment plan. Since the triggers of IBS ultimately individualized, a diagnosis can be challenging and is rarely made quickly.
IBS Flare-Up Prevention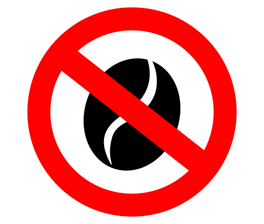 IBS is a complex health condition with a wide range of triggers; there is no one known trigger for IBS. To avoid a flare-up, efforts to determine your own body's reactions to foods that cause diarrhea, constipation or severe abdominal pain is key.
Common trigger foods are legumes and beans, dairy foods, chocolate, and certain fruits and vegetables including apples, watermelon, cabbage, broccoli and cauliflower. Spicy and deep-fried foods, as well as, caffeine are also known to irritate the intestines. As a general rule with IBS, drinking water and staying duly hydrated is crucial along with identifying which foods cause your adverse symptoms.
Understanding IBS Causes
There is no known 'specific' cause for IBS, although many factors play a role. The intestinal tracts for individuals with IBS are more sensitive - causing abnormal muscle spasms, contractions, and pain overall. IBS is also associated with a change in the bacteria in a person's intestines. Those at risk for IBS are young individuals under the age of 50, females, individuals with a family history of IBS, and those who suffer from frequent stress and anxiety.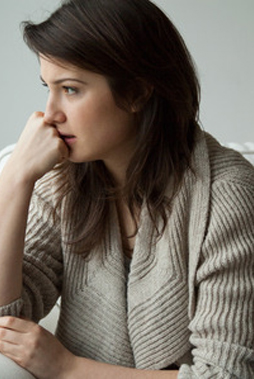 Many research studies have pointed to the ways in which
stress and anxiety are contributing factors that aggravate IBS symptoms
. Each triggers the other when the balance of the brain and the gut are disturbed causing havoc in the gut with diarrhea and/or constipation. Chronic stress causes inflammation in the intestines, worsening the symptoms associated with IBS. Many individuals who suffer from IBS will turn toward alternative therapies including yoga, meditation, and biofeedback in efforts to manage stress and anxiety effectively.
What Can Be Done?
Preventing IBS attacks hinges on the dietary habits you follow and also managing your stress. Avoid foods that trigger your symptoms. It is also important to make sure you get enough sleep each night and find ways to alleviate your stress. Increasing the amount of exercise you partake in will also benefit you greatly.
---
References:
1 - New England Journal of Medicine
2 - American Journal of Nursing
IBS Clear™ - Frequently Asked Questions:
To help alleviate any concerns or answer any questions that you may have regarding IBS Clear™, we have compiled a list of frequently asked questions below. This will assist you in your decision to purchase our product and start your journey towards better health and improved well-being.
What makes IBS Clear™ more effective than other IBS treatments?
Most IBS formulas combine a few key components with additional non-active ingredients, which can dilute the effectiveness of the product. This creates a cheaper solution and a less effective product. Others use inferior forms of critical ingredients, which just don't work as well. Some products neglect the research and include ingredients that are not even related to IBS at all.
Only IBS Clear™ uses a 100% natural formula that combines high quality ingredients in their most effective forms. This has enabled us to create an effective, multi-action formula that not only fights the pain, bloating, cramping, constipation and diarrheas associated with IBS, but also improves overall digestive health for optimal relief. By combining these approaches, IBS Clear™ has been able to create a superior IBS remedy that works faster and is more effective than any other product on the market.
Can IBS Clear™ be used to prevent symptoms from occurring?
Yes, many people use IBS Clear™ to prevent the onslaught of symptoms from occurring. Since IBS Clear™ is made of all natural ingredients, it is safe for long-term use.*
How long should I use IBS Clear™?
It depends on how severe your situation is. Most people feel relief with the first bottle, but for some, it will take longer. It may take 4-6 weeks if you have had severe discomfort for a while. You can use IBS Clear™ to get rid of IBS symptoms, to prevent them from occurring, and to stop them from coming back. How long you should continue depends on how severe your symptoms are, and how long it takes for you to feel healthy again.
What makes up the ingredients of IBS Clear™?
The ingredients in IBS Clear™ can be found on our How It Works page. You can go there to read more about each of the quality natural herbal ingredients.
Why is IBS Clear™ not available in stores?
We have chosen to make IBS Clear™ available exclusively online, so that we are able to reach more people and maintain control of distribution and customer service. We want to be hands on with our customers if there's a problem; we lose that personal touch when the product is sold in stores.
Can I see the label of IBS Clear™?
Of course! Please click here to see our IBS Clear™ label.
Can I use IBS Clear™ with my prescription medications?
IBS Clear™ has been formulated using only the purest natural ingredients. For the most part, there is no interference with most medications. But if you have any concerns or are pregnant or nursing, we always recommend you consult with your doctor.
If it does not work for me and I want to return it, what do I do?
Not a problem - there is a 60 day money back guarantee. We ask that you call customer service to get your return authorization number. If you do decide to return the containers, you must return all of the containers, so do not throw any of them away. Please do not ship products to us after the 60 day period has expired. If you send only a portion of the bottles back, you will receive a partial refund.
Questions about Shipping IBS Clear™:
How soon will my order arrive?
If you choose regular shipping, IBS Clear™ are shipped by US Postal Service First Class Mail. If you place your order before 10:00 am EST, it will be shipped out on the day it is ordered. If you place your order after 10:00 am EST, it will be sent out the next morning. Your order should arrive within 3 to 5 business days within the USA. All orders received after 10:00 am EST on Friday or on the weekend will be shipped out promptly Monday morning.
We also offer FedEx 2 day delivery, as well as, next day shipping. FedEx shipments will be sent out the same day, as long as the order is received by 10:00 am EST. You can learn more about shipping options on the checkout page.

What kind of package will it arrive in?
We always ship discreetly to protect the privacy of our customer. IBS Clear™ is shipped in plain packaging with no external information that identifies the product purchased.
How secure is it to order IBS Clear™ online?
Very secure. We use the strongest data encryption Secure Sockets Layer (SSL) technology available. SSL technology is the industry standard for encryption, and ensures a secure transaction environment for commerce on the internet.
Do you ship to Canada?
Yes, we have many customers in Canada; it just takes longer to get there, about 1 to 2 weeks for regular mail. If you order it using the FedEx amount, it will take 4 to 6 days.
Do you ship internationally?
Yes, we can ship to any country. You can learn more about shipping options on the checkout page.
View Cart
IBS Clear™: Ordering is Easy, Fast and Secure
Ordering on IBS Clear™ is safe and quick. We offer different packages, depending on the severity of your condition. Please choose a program from the options that best suits your needs. If you have any questions, please feel free to contact our friendly customer service help line.
Choose your package: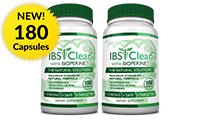 Prevention Package (

6

Units)
6-Month Supply

*BEST VALUE*

2 Bottles of 180 Capsules
Buy 6-Month Supply, Get 64% Off!
List Price: $419.70
Save: $269.75 (64%)
$24.99 /Each
Your Price: $149.95
ON SALE:

SAVE $269.75
Add to Cart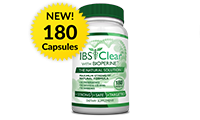 Prevention Package (

3

Units)
3-Month Supply

1 Bottle of 180 Capsules
Buy 3-Month Supply, Get 52% Off!
List Price: $209.85
Save: $109.90 (52%)
$33.32 /Each
Your Price: $99.95
ON SALE:

SAVE $109.90
Add to Cart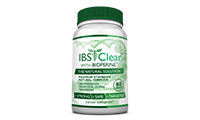 Sampler Package (

1

Unit)
1-Month Supply

1 Bottle of 60 Capsules
List Price: $69.95
Save: $20 (29%)
$49.95 /Each
Your Price: $49.95
ON SALE:

SAVE $20.00
Add to Cart
Shipping & Handling:
We ship out all orders within 24 hours, unless you order on the weekend (after 10am Friday) or a postal holiday. All orders are shipped discreetly, with no external markings that reveal the contents of the package.
We ship all over the world, with Express Delivery also available. Please refer to the checkout page for shipping rates. All orders are shipped from the US, so expect additional delivery time for international shipping.
| | |
| --- | --- |
| | |
| | |